Background
Mycobacterium marinum is an atypical Mycobacterium found in salt water and fresh water. M marinum is the most common atypical Mycobacterium to cause infection in humans. Infection occurs following inoculation of a skin abrasion or puncture and manifests as a localized granuloma or sporotrichotic lymphangitis (see the image below).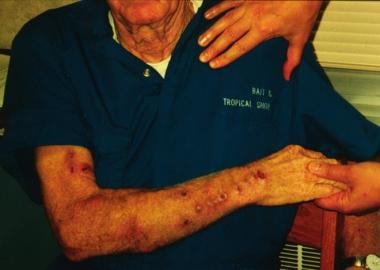 Photograph of Mycobacterium marinum infection lesions.
Diagnosis and treatment are often delayed because of a lack of suspicion for mycobacterial involvement, ie, versus more common bacterial pathogens. Due to the increased use of immunosuppressants for transplant recipients and tumor necrosis factor (TNF) inhibitors for a variety of conditions, infections with mycobacteria other than tuberculosis (MOTT) are increasing.