Background
The World Health Organization (WHO) defines malnutrition as "the cellular imbalance between the supply of nutrients and energy and the body's demand for them to ensure growth, maintenance, and specific functions."
The term protein-energy malnutrition (PEM) applies to a group of related disorders that include marasmus, kwashiorkor (see the images below), and intermediate states of marasmus-kwashiorkor.
Children with kwashiorkor have nutritional edema and metabolic disturbances, including hypoalbuminemia and hepatic steatosis, whereas marasmus is characterized by severe wasting.
Studies suggest that marasmus represents an adaptive response to starvation, whereas kwashiorkor represents a maladaptive response to starvation. Children may also present with a mixed picture of marasmus and kwashiorkor or with milder forms of malnutrition.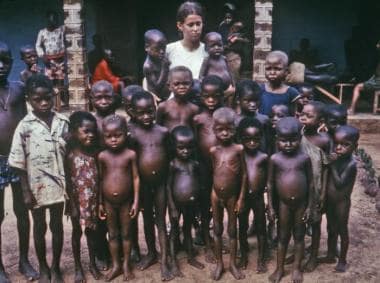 This photograph shows children and a nurse attendant at a Nigerian orphanage in the late 1960s. Note that four of the children have gray-blond hair, a symptom of the protein-deficiency disease kwashiorkor. Image courtesy of Dr Lyle Conrad and the Centers for Disease Control and Prevention Public Health Image Library.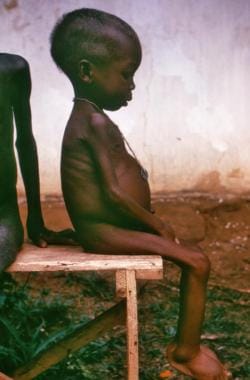 This late 1960s photograph shows a seated, listless child who was among many individuals found with kwashiorkor in Nigerian relief camps during the Nigerian-Biafran war. Kwashiorkor is a disease that develops due to a severe dietary protein deficiency. This child, whose diet fit such a deficiency profile, presented with symptoms including edema of the legs and feet; light-colored, thinning hair; anemia; a pot-belly; and shiny skin. Image courtesy of Dr Lyle Conrad and the Centers for Disease Control and Prevention Public Health Image Library.
Protein-energry malnutition is a global issue, seen primarily in resource-limited countries. Overall, malnutrition has decreased worldwide, but the rates vary by region. For example, Asia has seen declines in this condition, whereas there has been a continued increase in African nations.

Malnutrition can be classified as acute versus chronic. Features of chronic malnutrition include stunted growth, mental apathy, developmental delay, and poor weight gain.
Acute malnutition manifests itself in two major forms: marasums (the most common form) and kwashiorkor, although some patients' condition may manifest as a combination of both forms (marasmic kwashiorkor).
Children with marasmus are often low weight-for-height and have a reduced mid-upper arm circumference, as well as a head that appears large relative to the rest of their body. Other findings include dry skin, thin hair, and irritability. Kwashiorkor is characterized by peripheral pitting edema, as well as "moon facies," hepatomegaly, and a pursed mouth.