Practice Essentials
Oral mucositis is a common complication of cancer chemotherapy. It begins 5-10 days after the initiation of chemotherapy and lasts 7-14 days. Chemotherapy-induced oral mucositis causes the mucosal lining of the mouth to atrophy and break down, forming ulcers. See the image below.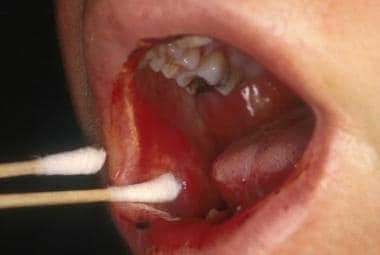 Erythematous oral mucositis lesion on the buccal mucosa.
See Cancer Chemotherapy: Keys to Diagnosing Common Toxicities, a Critical Images slideshow, to help recognize some of the more common complications of chemotherapy.
Signs and symptoms
Patients typically experience the following:
Oral pain and burning
Erythema and ulcerations
Difficulty eating, drinking, and speaking
Difficulty with mouth care regimens
See Clinical Presentation for more detail.
Diagnosis
The diagnosis of chemotherapy-induced oral mucositis is based on clinical findings and the chronology of the development of lesions.
Cultures should be performed if erythema and ulcers are located on the hard palate, attached gingiva, or dorsum of the tongue. Biopsy may be indicated, but it is not routinely necessary for diagnosis.
The two most commonly used scales for grading oral mucositis are the following:
World Health Organization (WHO) Oral Toxicity Scale: Combines both objective and functional elements into a single score
National Cancer Institute Common Toxicity Criteria (NCI CTC): Scores functional elements only
See Workup for more detail.
Management
The five main approaches to managing oral mucositis are as follows:
Oral debridement (eg, brushing, toothettes); mucolytic agents, such as Alkalol, help dislodge dried secretions
Oral decontamination, including antibacterial and antifungal rinses
Topical and systemic pain management, such as 2% viscous lidocaine, magic mouthwash preparations, and topical morphine solution may be considered

Prophylaxis, such as ice-chip cryotherapy or Palifermin (keratinocyte growth factor, FDA approved for mucositis prevention in hematopoietic cell transplantation)
Low-level laser therapy (photobiomodulation)
See Treatment and Medication for more detail.