Background
Acne fulminans (AF), also known as acne maligna, was originally described as acute febrile ulcerative acne conglobata (AC). In 1958, at a meeting of the Detroit Dermatological Society, Burns and Colville presented a 16-year-old white boy with acute febrile disease and acne conglobata. Many similar cases have been reported since then.
The primary features of this disease include sudden onset, severe and often ulcerating acne, fever, polyarthritis,
and failure to respond to antibacterial therapy; the response to debridement in combination with steroid therapy is good. It can be the dermatologic manifestation of the synovitis-acne-pustulosis-hyperostosis-osteitis (SAPHO) syndrome.
Acne fulminans is a syndrome of fulminant, necrotizing acne associated with bone lesions, constitutional symptoms, and laboratory abnormalities. See the image below.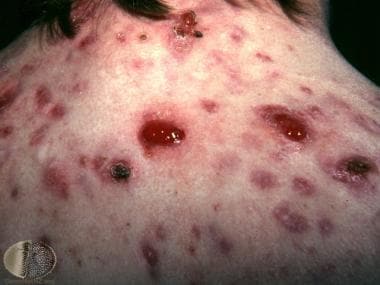 Granulomas and crusted acne lesions in acne fulminans. Courtesy of DermNet New Zealand (http://www.dermnetnz.org/assets/Uploads/doctors/follicular/images/fulmin2.jpg).
Go to Acne Conglobata, Acne Keloidalis Nuchae, Acne Vulgaris, and Acneiform Eruptions for complete information on these topics.