Background
Disseminate and recurrent infundibular folliculitis (DRIF) was first described in 1968 by Hitch and Lund.
The clinical presentation is much like miliaria or keratosis pilaris. It is mostly seen in young healthy people, and most patients have a dark skin color. It consists of generalized flesh-colored papules. Therapy has generally been unsuccessful.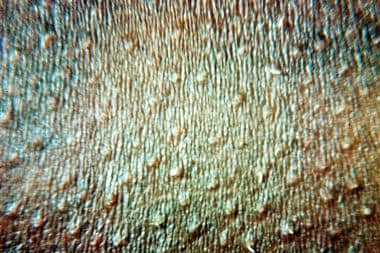 Courtesy of San Antonio Uniformed Services Health Education Consortium slide files.
The validity of disseminate and recurrent infundibular folliculitis as a separate entity has been questioned. However, it does have such a characteristic clinical picture that for the present it is accepted as an entity.