Background
Idiopathic guttate hypomelanosis (IGH) is an acquired, benign leukoderma of unknown etiology. Idiopathic guttate hypomelanosis is most commonly a complaint of middle-aged, light-skinned women, but it is increasingly seen in both sexes and older dark-skinned people with a history of long-term sun exposure. See the image below.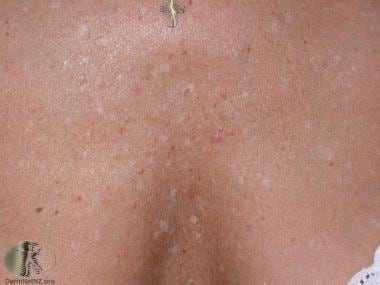 Idiopathic guttate hypomelanosis. Courtesy of DermNet New Zealand (http://www.dermnetnz.org/assets/Uploads/colour/igh1.jpg).
Idiopathic guttate hypomelanosis is a benign condition. The cause is not known, but it appears to be related to the effect of the sun on melanocytes, which makes them effete.
A variety of therapeutic methods, including topical steroids, topical retinoids, dermabrasion, cryotherapy, and minigrafting, have been used for idiopathic guttate hypomelanosis with variable success.