Background
Pemphigoid gestationis (PG) is a rare autoimmune bullous dermatosis of pregnancy (see the image below). The disease was originally named herpes gestationis for the herpetiform morphology of the blisters, but this term is a misnomer because pemphigoid gestationis is not related to or associated with any active or prior herpes virus infection.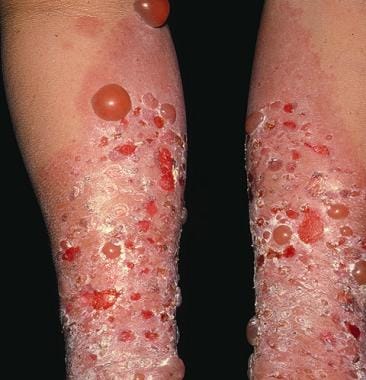 Tense bullae are present on the arms of this otherwise healthy 32-year-old primigravida woman.
See Diagnosing Dermatoses in Pregnant Patients: 8 Cases to Test Your Skills, a Critical Images slideshow, for help identifying several types of cutaneous eruptions associated with pregnancy.