Background
Mucous membrane pemphigoid (MMP), also known as cicatricial pemphigoid, refers to a group of rare chronic autoimmune blistering diseases that predominately affect the mucous membranes, including the conjunctiva, and occasionally the skin. Patients with cutaneous involvement present with tense blisters and erosions, often on the head and the neck or at sites of trauma. Scarring of the mucous membranes is common, hence the designation cicatricial, which can lead to decreased vision, blindness, and supraglottic stenosis with hoarseness or airway obstruction. The first international consensus on mucous membrane pemphigoid was published in 2002.

See the illustration below depicting ocular mucous membrane pemphigoid.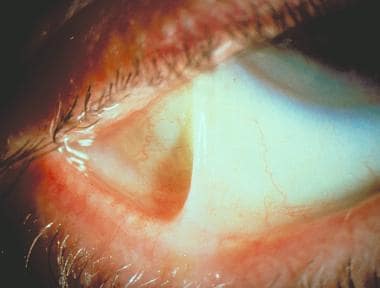 Ocular manifestations of cicatricial pemphigoid (mucous membrane pemphigoid) include symblepharon, demonstrated in this photograph by the tethering of the lower lid to the cornea.
Classification of mucous membrane pemphigoid patients has been difficult because some patients with other autoimmune blistering diseases, including bullous pemphigoid (BP),epidermolysis bullosa acquisita (EBA),and anti-p200 pemphigoid, may have mucosal involvement. Also, clinical heterogeneity exists in the clinical manifestations of this disease, with some patients presenting with ocular involvement and others with oropharyngeal involvement. The heterogeneity in clinical manifestations does not appear to be linked to the heterogeneity of the target antigens alone.