Practice Essentials
Schnitzler syndrome is an autoinflammatory disease characterized by chronic, nonpruritic urticaria in association with recurrent fever, bone pain, arthralgia or arthritis, and a monoclonal gammopathy, most often of the immunoglobulin M (IgM) subtype. Approximately 10-15% of patients eventually develop a lymphoproliferative disorder, such as lymphoplasmacytic lymphoma, Waldenström macroglobulinemia, or IgM myeloma. See the image below.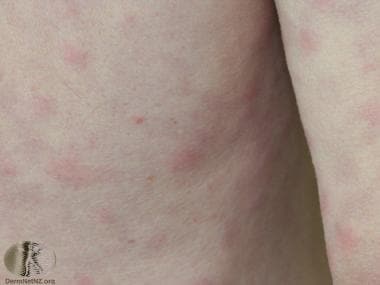 Rash of Schnitzler syndrome. Courtesy of DermNet New Zealand (http://www.dermnetnz.org/assets/Uploads/systemic/schnitzler.jpg).
Signs and symptoms
Schnitzler syndrome is characterized by the following signs and symptoms:
Chronic, recurrent, urticarial eruption: Occurs in all patients, usually as the first sign of the disease; primarily affects the trunk and the extremities and spares the palms, soles, and head and neck areas
Pruritus: Usually absent at disease onset, but lesions may become mildly pruritic in approximately 45% of patients after 3-4 years
Recurrent fevers: In approximately 90% of patients
Relapsing arthralgias: Concurrent with fever; reported in 80% of patients
Bone pain: Concurrent with fever; reported in 70% of patients
Myalgias: Concurrent with fever
Lymphadenopathy
Hepatomegaly
Splenomegaly
Fatigue
Weight loss
Angioedema: Very rare
The urticarial rash is characterized as follows:
Pale-rose, slightly elevated papules and plaques
Individual lesions are 0.5-3 cm in diameter
New lesions appear daily
Lesions last 12-24 hours and then disappear without sequelae
See Clinical Presentation for more detail.
Diagnosis
Laboratory studies
Immunoglobulin M (IgM) or rarely IgG monoclonal gammopathy: Detected with serum immunoelectrophoresis, and the titers are low (usually < 10 g/L; occurs in all patients; in 51% of cases, however, serum protein electrophoresis may not detect it
Elevated erythrocyte sedimentation rate (ESR): Found in most cases
Elevated C-reactive protein level: Also detected in most cases
Leukocytosis: 70% of patients
Thrombocytosis: 20% of patients
Anemia: 50% of patients
Abnormal lymphoid proliferation: 20% of bone marrow biopsy samples, with nonspecific polyclonal lymphocytic and plasmacytic infiltrates
Imaging studies
Radiologic evaluation shows evidence of hyperostosis in 35% of Schnitzler syndrome patients. Often, the areas of hyperostosis coincide with areas of symptomatic bone pain, such as the iliac bone, tibia, femur, and vertebral column.
See Workup for more detail.
Management
Nonsteroidal anti-inflammatory drugs (NSAIDs), corticosteroids, and immunosuppressive agents have been reported to provide variable relief from the symptoms of bone pain and arthralgias associated with Schnitzler syndrome.
Systemic steroids may be somewhat effective at controlling the cutaneous eruption, but usually at doses that can cause significant, long-term adverse effects.
Pefloxacin mesylate may be a therapeutic option. In a case series of 11 patients, it was shown to significantly reduce the intensity and frequency of many of the manifestations of Schnitzler syndrome in a majority of the group, and it provided a steroid-sparing effect for some patients being treated with systemic corticosteroids.

Inhibitors of interleukin (IL)–1 (anakinra, rilonacept and canakinumab) appear to be particularly effective.

See Treatment and Medication for more detail.