Background
Pulmonary hypoplasia (PH) or aplasia is a rare condition that is characterized by incomplete development of lung tissue, which can be unilateral or bilateral. It results in a reduction in the number of lung cells, airways, and alveoli that results in impaired gas exchange. See the image below.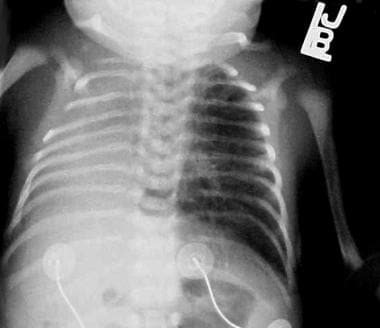 Chest radiograph of a newborn with primary pulmonary hypoplasia of the right lung showing shift of the mediastinum to the right hemithorax.
Pulmonary hypoplasia (PH) may be primary or secondary. Primary PH is extremely rare and routinely lethal. The severity of the lesion in secondary PH depends on the timing of the insult in relation to the stage of lung development. This typically occurs prior to or after the pseudoglandular stage at 6-16 weeks of gestation. In pulmonary hypoplasia, the lung consists of incompletely developed lung parenchyma connected to underdeveloped bronchi. Besides disturbances of the bronchopulmonary vasculature, there is a high incidence, (approximately 50-85%) of associated congenital anomalies such as cardiac, gastrointestinal, genitourinary, and skeletal malformations. The diagnosis can result in a spectrum of respiratory complications ranging from transient respiratory distress, chronic respiratory failure, bronchopulmonary dysplasia to neonatal death in very severe cases. Strict diagnostic criteria are not established for pulmonary hypoplasia; various parameters such as lung weight, lung weight to body weight ratio, total lung volume, mean radial alveolar count and lung DNA assessment have been used to classify pulmonary hypoplasia.