Background
Bronchogenic cysts, although relatively rare, represent the most common cystic lesion of the mediastinum.
Shanti and Klein (2008) studied a series of 236 patients undergoing pulmonary resection for cystic lung lesions.
Bronchogenic cysts constituted 20% of this group. Of these 47 cases, 20 involved a lobar location, which required lobectomy, and 27 cases were extralobar and were treated with resection of the cyst. Today most bronchogenic cysts are diagnosed antenatally.
See chest radiograph below illustrating a bronchogenic cyst.
Plain chest radiograph showing a left paraspinal mass. Photo courtesy of A Fruauff, MD.
In infants and small children, bronchogenic cysts, especially those that compress vital structures, can present with respiratory distress. In particular, subcarinal cysts can pose life-threatening airway compromise. Symptomatic older children may present with recurrent infection. Despite this many, infants and children are asymptomatic and the cystic lesion is found incidentally during routine chest radiography and during evaluations for GI or cardiac symptomatology.
Improvements in fetal ultrasonography have provided prenatal identification of many cystic lung lesions, with early diagnosis and surgical intervention. Error rates vary among studies.
Bronchogenic cysts are the result of anomalous development of the ventral foregut; they are usually single but may be multiple and can be filled with fluid or mucus, as depicted below. They have been found all along the tracheoesophageal course, in perihilar or intraparenchymal sites, with a predilection for the area around the carina. Those in the mediastinum frequently attach to, but do not communicate with, the tracheobronchial tree. Bronchogenic cysts have also been described in more remote locations, including the interatrial septum, neck, abdomen, and retroperitoneal space.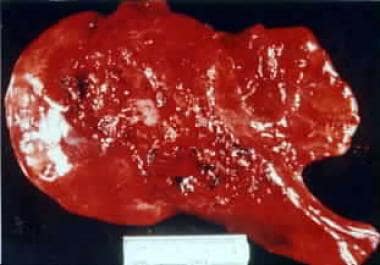 Extrapulmonary bronchogenic cyst. Unilocular cystic mass attached to mediastinal structures by a short pedicle. The inner surface is trabeculated, and the cyst contains mucinous material. The cyst measures 15 cm X 5 cm. Photo courtesy of K Kenigsberg, MD.